Bush hammered kota stone is a natural texture look like natural surface,bush hammers exist in many forms, from simple hand-held hammers to large electric machines, but the basic functional property of the tool is always the same - a grid of conical or pyramidal points at the end of a large metal slug. The repeated impact of these points into stone or concrete creates a rough, pockmarked texture that resembles naturally weathered rock.kota stone bush hammered ,bush hammers can help to increase bonding effectiveness when applying new concrete to an
existing concrete surface by increasing the surface area of the
bonding zone.Bush Hammered Surface Textures stones
Bush Hammered Surface kota stone
Bush Hammered Surface Textures stones:A pounding action that develops a textured surface. The degree of roughness can be selected.This is an ancient form of surface treating stone materials for exterior cladding and other handicrafts. The rock surface, previously formed, is struck repeatedly with a hammer,carrying one or two heads of steel that contain small pyramidal carbide teeth the treated surface has small craters 1-3 mm in depth and width uniformly distributed, which add to the overall tone of the rock. It should be noted that these "bumps" on the size and density of the pointer are a factor of implementation, as is the force used and the number of impacts.
In the case of very large bujardas the finish is quite rough, but usually these
points are used to shape a surface.
Grey kota stone bush hammered,thickness:18-25mm, 22"x22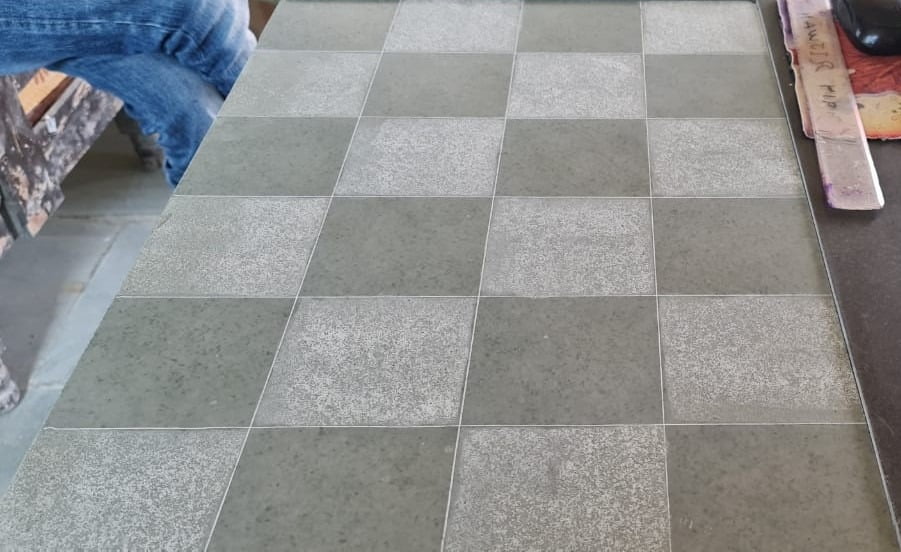 kota green bush hammered, for flooring, size: 2x2