kota stone flooring
It is opposing skid kota stone flooring,this flooring is best in interior or exterior purpose,cotta stone flooring has 3 color – blue,green and brown,mostly blue kota stone is employed in railroad terminal,warehouse,dairy plant and mall,kota Stone may be a fine-grained type of sedimentary rock. The made greenish-blue and brown colours of this stone square measure hottest. it's a wonderful building stone. it's in the main used for exteriors, pathways, corridors, driveways, balconies, business buildings etc. it's conjointly appropriate to be used in chemical industries as flooring, wall fixing and lining.
Cotta stone Flooring
There is no alternate of cotta stone flooring,kota Stone is incredibly helpful stone for flooring and flooring Interior purpose. This Polished stone is hard and simple to regulate in any size of flooring. we tend to square measure major provider of Kota Stone. we tend to offer kota Stone in homes, Offices and business malls for stone flooring purpose.Kota Stone competes within the marketplace for longer sturdiness. kota stone most sizes square measure around 240 cm long and seventy five cm in breadth. this can be because of the physical properties–the crispness of sedimentary rock. Since it's sedimentary rock it's not proof against acid and alkali.
Sizes and thickness 
Cut to size  (inch) – 11×11,22×11,22×16,9×9,22×10,10×10,22×15,22×14,21×21,22×22,22×28,17×23,17×11,22×28,
Skirting (inch)-  22×4,22×5,17×5,
Slab size (feet) – 2×2,2×3,2×4,2×5,2×6,2×7,2.5×3.2.5×2.5.2×4.2.5×5.2.5×6,2.5×7,
Thickness – 18-24mm or 25-32mm
Benefits
Tough Stone
Non- water absorbent
Non-slip flooring
Non-porous Nature
Easy to Cut in Any Size
Affordable prices compared to Marble
Cotta stone flooring price
Size         Thickness             Rate
1×1           25mm                  8/-sq.ft.
2×1           25mm                 12/-sq.ft.
2×2           25mm                 17/-sq.ft.
2×3           25mm                  21/-sq.ft,
2×4           25mm                  24/-sq.ft.
2×5           25mm                  28/-sq.ft.
2×6           25mm                  30/-sq.ft.
Cotta stone price list of cut-to-size
 Size              Thickness        Rate
11″x11″            25mm        8.00/-pcs
10″x10″   25mm    6.50rs/-pcs
9″x9″       25mm      4.00/-pcs.
22″x11″    25mm    21.00/-pcs
22″x10″    25mm      16.00/-pcs
22"x9"       25mm    13.00/pcs.
22″x14″      25mm      33.00/pcs.
22″x15″      25mm       36.00/-pcs.
17"x23″      25mm      51.00/-pcs
22″x22″      25mm     66.00/-pcs
23″x23″    25mm     70.00/-pcs.
22″x28″    25mm      87.50/-pcs.
Kota Stone
Kota stone is found in Kota which is district of Rajasthan basically it is a dolomite stone but it is a fine grained variety of limestone composition Kota is a very fine grained siliceous calcium carbonate Rock of sedimentary nature is very similar stone in Shahabad stone found in North Karnataka but oscillate is mostly grey shopkeepers of Ansal Shabad against Kota so when you go to purchase Kota stone ask your contractor before buying it Kota stone is used at drivers for kitchens platforms balconies staircases,lobby areas, hospitals, garden area, factories, terrace flooring,temples, government buildings and railway station the smooth and highly durable stone is widely used in commercial residential and industrial verticals for flooring applications. 
Kota stone uses
Kota stone is one stone that can be used for different purposes of building just like- flooring,staircase,wall cladding,corner,footpath,railway station,marriage garden,warehouses and gardens.
Colours of kota stone
Colours in Kota stone flooring greenish blue and brown have become the most popular places in Kota stone but other colours are also available in Kota stone as honey, black, pink, grey, and beige.
Advantages of Kota stone flooring 
 Advantages of Kota stone flooring hard and rough Kota stone features of compact homogeneous nature are very durable and work perfectly for high traffic areas like corridor entrance hall,porch and staircase.
wear-resistant long lasting stone that makes it viable option for commercial flooring and public places and where we wear and tear is comparatively too much natural black marble or granite Kota is a Natural stone and is biodegradable and green auction Kota is resistant enough to fit to any climatic conditions dry and humid to made or cold water resistant Kota stone flooring are non-slippery and non slope and work based for bathroom and kitchen non porous and non porous perfect for installation in humid areas and Gardens.
Kota stone durability
Durable Kota stone is highly durable but if you want to maintain the smoothness of the stone you must to polishing periodically helps to render a Shine and smoothness to the stone surface polishing wax is easily available in market and can be used to polish the Kota stone surface applying polish as an added advantage as it prevents flaking of stone affordable and easy to maintain it is easy to maintain in luxury look by installing the low cost and maintenance free stone which features field Kota stones do not require which regular maintenance like any other flooring they are well known for their toughness and durability however the polished Kota stones may time to take over a period of time this phenomenon can only be eliminated by periodic polish of wax.
Kota stone standard sizes
Kota stone standard size is – 2feetx2feet,it is available in various sizes and shape fit to any pattern of flooring which stone can be customised according to your need and requirements it can be used as flooring tiles on the walls are one of the best building stone and can be card easily that having so many unique features are one of the cheapest phones among other natural stones such as marble or granite it completes its lower cost in market and therefore can easily fit to your budget it is also the best option for those who are budget conscious 
Thickness of Kota stone
Thickness of  Kota stone is 1inch to 1.5  inch but if you want to interested then price Goes high the price will be less if your purchasing from the original place from where it is queries because the manufacturer doesn't have to worry about the transportation charges a builder for bulk purchase Idea by directly from the location where it is very small quantities it is ideal to get it from a trustworthy locally. 
Kota stone finishing
Kota stone finishes – hand cut, machine cut, polished, mirror finished, calibrated,leather polished,polishing is normally done in seven rounds including the final tin oxide round polishing with grinding stone should be given only after properly quaring with the surface generally rough cut the first few rounds are necessary to get the surface level with the letter rounds adding the mirror like polish it is available in rough and forest in while installing Kota flooring we have to make sure that we use cricket ground otherwise it will turn black as a time passes 
before fixing Kota stone the exposed surface of slab should be polished before being placed at site and also the contractor shall get the slab sample approved by the concerned engineer generally cement sand water of cm1:4 operations are be used and after fixing the Kota stone shall be talked with cement slurry @ 4.4 kg of cement per square metre area cost per square feet generally the cost is 35 to 40 rupees per square feet donation price 22 to 25 rupees per square feet standard sizes 2 feet x 2 feet, 1feet x1 feet, 4 feet x 2 feet .
Disadvantage of kota stone flooring
Disadvantages of Kota stone flooring flaking continuous usage of Kota stone might result inflating however periodic polishing using polish and wax Infinity dark colour not ideal to use as a flooring options for interiors of home dark colour flooring makes the room appeared dull and small small size price Kota stones are not available in marksheets like marble and this is due to the brittleness of limestone the maximum sizes are around 240 CM x 75 cm so when the following is done for a large space the number of joints many more not acid and alkali resistant Kota stone can be laid anywhere accept the kitchen because Kota is not acid and alkali resistant and can be stained easily lusterless its surface finish is not so lustrous as marble or granite.
While Kota stone flooring is a popular and durable flooring option, it does have a few disadvantages that homeowners should consider before installing it.
Slippery: One of the major disadvantages of Kota stone flooring is that it can be slippery, especially when wet. This can be a safety hazard, especially in areas like bathrooms or near swimming pools. To prevent slips and falls, homeowners should consider using non-slip mats or applying an anti-slip coating to the surface of the stone.
Staining: Kota stone flooring is porous, which means that it can absorb liquids and stains. This can be a problem in areas where spills are common, such as kitchens or dining areas. To prevent staining, homeowners should clean up spills immediately and seal the surface of the stone regularly.
Rough Surface: The natural texture of Kota stone flooring can be rough and uneven, which may not be suitable for all types of furniture or decor. For example, chairs with thin legs may wobble or sink into the surface of the stone. Homeowners should consider the weight and stability of their furniture before installing Kota stone flooring.
Maintenance: While Kota stone flooring is relatively low maintenance, it does require some upkeep to keep it looking its best. Regular cleaning and sealing are necessary to prevent staining and to maintain the natural beauty of the stone.
Cost: Kota stone flooring can be relatively expensive compared to other types of flooring materials. This can be a disadvantage for homeowners on a tight budget who may need to consider more cost-effective flooring options.
In conclusion, while Kota stone flooring offers many advantages, it also has a few disadvantages that homeowners should consider before choosing this type of flooring. Slipperiness, staining, rough surface, maintenance, and cost are all factors to keep in mind when making a decision about flooring for your home.
Kota stone flooring rate analysis
Kota stone flooring rate analysis-you can know how to calculate the rate of Kota stone flooring,we need to check whether the Kota stone is better polish for the pollution shall be done at site the Kota stone available is cut two sides of the cutting shall be done at site in this rate analysis I am going to consider factory pollution cut to size kota kota stone required for 1 square metre area in equal to 1 square metre for Kota stone the wastage is 5% so 1 into 5% is equal to 0.0 square metre Kota stone including wastage for one square metre area Shalby oneplus 0.05 in the equal to 1.0 square metre considerate of factory polish and cut to size Kota stone in 65 rupees per square feet total cost of Kota stone shall be 1.05 into 65 into 10.764 is equal to 7 35 rupees will consider a cement sand wedding of 40 mm thickness in cement mortar 1824 volume of water the formula is 1 into 0.04 is equal to 0.0 metre we will at 14% for dry 28 volume 0.04 into 40% is equal to 0.0 to cubic metre total volume of water shall be 0.04 + 0.02 is equal to 0.083 number of cement bag the formula in 0.0625 1 + 4 is equal to 0.0 1 cubic metre 1 is to 4 is the proportion of cement mortar in cement Panchal be 15 the volume of 1 bag of cement is 0.035 Cubic metre and will divide by 0.035 to convert it into bad the formula is 0.01 divided by 0 1 0 3 5 is equal to zero point 32 back you will consider the rate of cement add to it rupees amount of cement required Shalby 0.32 into 80 is equal to 90 Rupees now we will calculate standard in cubic metre the formula is 0.06 divided by 1 + 4 into 4 is equal to 0.0 metre x 4 because that is 4 times the cement in proportion of 1824 considered a rate of crushed sand 3000 rupees per + 3000 2.83 is equal to 1060 rupees per cubic metre amount of 0.04 into 1060 is equal to 40 7 rupees total material cost is 7:35 + 90 + 47 is equal to 8 72 rupees at quotation cost to start girls and consumables at 5% in 72 into 5% is equal to 44 rupees and one person for safety 872 into 1% is equal to 8.7 to rupees now the sum total 87 32 + 32 + 6.46 equal to 9 24 rupees as per current market the labour rate for Kota stone fixing is 25 rupees per square feet hands for one square metre the labour cost shall be 1 into 25 into 10.764 is equal to 2 69 rupees we will consider cost of air pollution 12 rupees per square feet that is 12 into 10.764 is equal to 1 29 rupees the subtotal is 9 24 + 269 + 129 is equal to 1320 to do at 15% for retained profit 13 22 into 15% is equal to 1 90 Rupees rate for one square metre of Kota stone flooring is 1322 + 198 is equal to 1521 rupees important know the metal is considered interest rate analysis of GST the material and Labour rates may vary depending on the site condition apply for contractor and I have not considered the wastage of cement and sand in mortar you can consider it as per your convenience.
Kota Stone Flooring Pattern
In this flooring the thing depends on the area of ​​the flooring, if the area is small, then you can apply small size of stone, if the area is large then it should be applied larger size, smaller size means 1'x1' and 2'x1′,Large size means 2'x2′,2'x3′, its flooring is applied in kite and choror, black flooring, green marble and yellow marble in its flooring. is.
Different type of kota used in home flooring
People use different types of Kotah in their homes, like someone putting mirror polished kota Stone tiles, and others use Leather Finish cota Stone.Someone puts a brown stone, Kota's flooring is not acid-proof, it is not slippery even after being polished fine, but one thing is clear, mostly Men like blue color flooring more, put a kota of rough or leather finishes in the parking lot of their house,people also use cota stone in the wardrobe and steps of their houses, use Kota stone of thick thickness in the parking lot, if there is a basement in the house, then Rough Kota is used in its waterproofing. quota stone does not absorb water.
Flooring Advantage & disadvantages of kota stone
It's flooring does not deteriorate for a long time and the shine remains as new, the price is also less than marble and granite, the winning thickness takes the floor of Kota. Flooring is much more expensive, winning will have more thick quota flooring, it also has the ability to bear weight,Flooring of Kota is not acid-proof; It should be bad by applying polished Kota flooring in the outside area, it should not be bad in the open area.scratching occurs when rubbing a sharp object in the floor of the Kota, whereas in granite it does no.
Kota pathar is not used in kitchen platform
Kota stone is not installed on the platform of the kitchen, because it is not acid-proof. If the lemon and other liquid falls, white marks are formed on the stone, but these marks are removed automatically after some time.
How clean Kota stone floor
To clean the flooring of this, only access and water is required,If the floor of the quota is not cleaned for a long time, it can be re-polished to make it new, to make it new.
See below vedio for clean kota stone floor 
Kota stone flooring is best choice better than marble & granite,according to architecture, quota stone flooring is also right; therefore, more people tend to quota flooring more, in marble and granite, they can do more of its brightness by putting aproxy while doing nothing in Kota stone, these stones can be 100% Natural is, after some time marble and granite floral ends.
Flooring of Kota Stone does not need care only, it is necessary to scrub and scrub everyday only. Kota flooring is not bad for 100 years, while the marble flooring starts flowing after some time. Pollution also affects the flooring of marble. Flooring of quota stone is 25 mm, 35 mm, 40 mm and 50 mm, for this reason it can bear more weight than other floors.
Jaisalmer stone and green marble are also used to make the flooring of kota attractive, not water of Kota stone, hence it is also used in waterproofing, its flooring is available in many finishes such as rough , Semi-polished, high-polished, mirror-polished, leather foil, short blast, sand blast, bush hammer finishes, and river finishes, all are used in different places such as – rough Security parking and warehouse, takes the flooring of grasping the outside and enjoy the swing bridge leather finished.
The size in the flooring of the quotas is 2' x2',2'x 1.5' and 2' x 2.5'. This size is the highest in the flooring. This size is applied in different thickness. If your budget is working then you will get a small size of Kota Stone You can also use these as the price is larger than the size of the work.
Kota stone flooring thickness ?
Kota stone flooring thickness starts from 12mm to upto 50mm thickness,if you require a heavy weight bear then you should use 25-32mm thickness of kota stone tiles,railway platform has 40-45mm thickness kota stone flooring.
Which stone is best for flooring?
Kota stone is best flooring stone than other natural stone just like sandstone and marble,it is anti-skid flooring and longlast for lifetime.no maintenance required in longtime.
How to lay kota stone flooring
In this video you can see how to lay cotta stone flooring, you can use cement, sand & chemicals to make mixer for kotta laying material.
Yellow Kota stone flooring
It is the best option for outside the house lawn and dining hall flooring, leather finished material is used for this type of flooring.
Rough Kota stone flooring
Rough Kota flooring is best outside of houses and bungalow car parking because there is no chance of slip.heavy machinery workshop flooring, rough Kota flooring is used in car workshop flooring & factory of any product,
Kota stone flooring specification
The specification is anti observe water, there is no effect of any atmosphere of the world, it is natural friendly flooring there is no chemical used in this type of flooring,
Kota stone flooring Rate
Cotta flooring total fitting cost 60rs./-sq.ft. this cost including material cost, fitting charge and polishing in Kota Rajasthan, if you are outside of Kota Rajasthan than you can add transportation charge, Kota stone flooring polishing charge – 18/-sq ft. For type polished,
Kota stone flooring installation
Installation of this stone is very easy only sand and cement or chemical are used for fixing of Kota flooring, for installation process you can see our video for all detail, nowadays chemical also used for Kota stone flooring installation,
Kota stone flooring colours
Three are five colour – green, blue, black, yellow and grey, the original colour looks after finished polished, basically, blue Kota flooring is very good looking and brown leather finished in the short blast is very attractive natural flooring look,
Green Kota stone flooring designs
There is green Kota stone flooring with river finished material, it is used in outside in house lawn and parking area, green Kota stone is used with Jaisalmer stone and Bansi paharpur pink sandstone, nowadays texture is very famous in green Kota flooring, after high polished or mirror polished original colour come out.
How do you make Kota stone shine?
For the making of Kota flooring shining, you have to need more polishing at the surface of Kota stone flooring,
How many polishing need for kota stone flooring 
At least 5 or 6 times to urge an honest shine . It also depends upon the standard of the stone: denser stones get an honest shine with 4 or 5 polishes.
Kota blue leather finished in the kitchen and verandah Is it a good choice. For kitchen 
It is a nice colour and choice.but kota is a porous stone and not really ideal in kitchens.
Kota stone is better for outside flooring.
It is a very good natural stone because it is very hard and strong so it can bear heavy weight articles.
Can we use iron brush for cleaning rough kota stone flooring
Never use an iron brush on kota as it will leave marks.
Different between kota and Tandur
Kota is better than Tandur as it can take more polish. It's always better if you take your tiles layer for selection as they have a better idea of good quality stone, Shahbad and kota are almost similar in composition and properties.
Can we use Kota stone for the bathroom flooring
You can use Kota stone with rough/honed polish in a bathroom. But it is a porous material and will absorb moisture and there will perpetually be damp spots if used in a bathroom.
Is there any problem of laying electrical conduit below kota stone flooring
Kota is not a conductor of electricity. But ensure that there are no gaps between the stones.
Disadvantages of kota stone flooring
It is not available in big slab sizes like marble and granite 

Kota is a variety of limestone which is very fragile hence it is available in smaller sizes.

Continuous usages of kota stone might result in flaking.if it is maintained and polished regularly flaking of the stone might be prevented.

Its surface finish is not so lustrous as marble or granite.

Kota is not a good option in an open terrace, because it gets pitted over a period of time under the harsh sunlight.
Advantage of kota stone
1.Kota is not a fragile stone but quite strong and can withstand heavy traffic. Only that it is porous, so it can be flaked and chip easily. 
2.Kota stone is a good choice. However it takes scratches and in that regards marble or vitrified tiles are better options. Italian marble gives a very posh appearance and is very expensive.you could opt for indian marble which is quite good.
3.Kota have kota stone tiles in the bathroom and toilet,due to harpic to clean, the surface of stone becomes very rough.what can we do to make it smooth at home.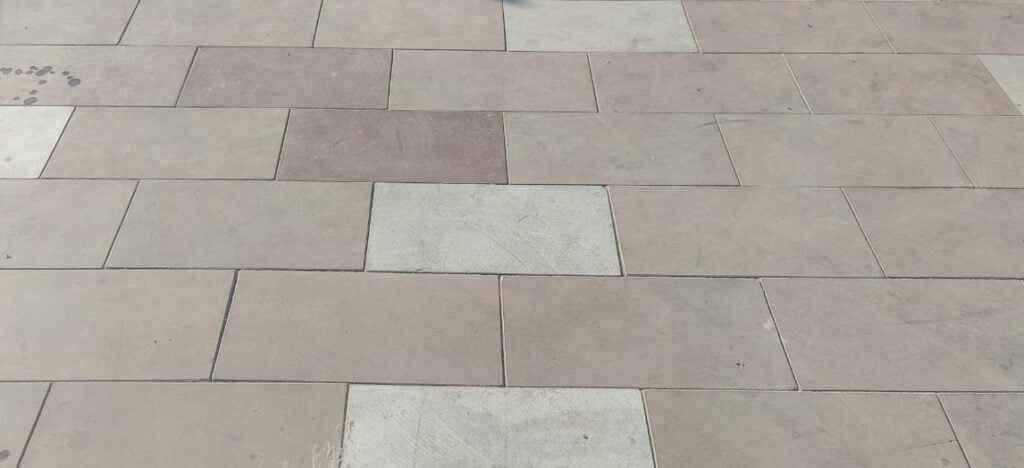 How an existing polished Kota stone flooring can be roughness for antiskid
Answer– yes you can get roughness for anti skid by flooring fixer experts can do it by a shot blasting machine.
Flooring kota stone
Flooring kota stone is available in 2×2,2×1,2×2.5 and 2×2.5 sizes in feet. Finish type- semi-polished and highly polished.
Polished kota stone flooring price
Polished kota stone flooring final price – 75/-sq feet at delhi  included fixing,polishing,transport & gst 5%.
Cotta stone flooring
Cotta stone flooring is natural stone limestone flooring.it does not observe water during any type of water leakage. Cotta flooring is lifetime flooring for 100 years  as new.
Polished kota stone flooring
Polished kota stone flooring means mirror polished kota stone flooring no other polished require after it. This type of polished kota is available in one box containing 2 pcs. Of 22×22 inch.
Limestone flooring
Limestone flooring is available in three colours – blue,brown and yellow,it is the best natural stone.There are many types of limestone flooring – tandur limestone and original kota stone flooring.limestone flooring is used with other natural stone like marble,sandstone and granite.
Rough kota stone flooring 
Rough kota stone flooring is best for heavy weight machinery workshop and basement flooring for water proofing purpose.rough kota flooring is not even just like polished flooring.this is  a heavy-duty flooring option that can withstand the elements? Look no further than our rough kota stone flooring! Ideal for both indoor and outdoor use, this tough and durable flooring is perfect for high-traffic areas like warehouses and godowns. Plus, its natural beauty will add a touch of elegance to any space
Kota stone for outdoor 
Looking for a tough and durable stone for your outdoor space? Kota  stone is perfect for car parking, rough finish flooring and other high traffic areas. Made from limestone, this stone is built to last – perfect for withstanding the elements. Plus, it adds a unique natural look to any space.kota stone is perfect for your car park or other rough finish areas. With its thick 30-35 mm thickness, it's perfect for flooring and can withstand heavy traffic.
kota stone tiles
Kota stone floor tiles are a beautiful and unique way to add style to your home. These blue and brown tiles have a thickness of 18mm and are uniform in color, making them perfect for use in any room. Each tile is packed in a corrugated box and weighs 16kg, making it easy to transport and install. The top surface of the tiles is mirror-like, while the bottom is calibrated for an accurate installation.
 Features 
Color – blue, green, black, yellow & red
Origin- Ramganjmandi, Rajasthan (india)
Uses- interior flooring
Thickness- 18mm (regular) or customer require
Regular size – 22″x22″, 22″x16″, 22″x 46″,
Two pcs. in one corrugated box
weight each tiles- 16kg
Price – 45/-sq ft
Top surface glass finished, bottom calibrated
kota stone tiles design for living room
Kota Stone tiles can add a unique and natural elegance to your living room design. Its earthy tones and smooth texture can effortlessly blend with different architectural and interior styles. Here are a few design ideas for incorporating Kota Stone tiles into your living room:
Traditional Elegance: Use the natural greenish-blue or honey-brown Kota stone to cover your living room floor. Complement it with traditional furniture made from teak or rosewood, and adorn the walls with warm, muted colors. It will create a rustic yet classy ambience.

Modern Minimalism: For a modern minimalist look, select grey Kota stone tiles. Pair them with sleek furniture in black, white, or grey, and keep accessories to a minimum. This creates a clean, uncluttered aesthetic, where the stone floor provides a rich texture.

Eclectic Fusion: Mix and match different shades of Kota Stone tiles to create an intriguing floor pattern. This can be especially effective in a larger living room. Combine it with eclectic furniture and decor elements from different styles to create a unique fusion look.

Statement Area: Use Kota Stone tiles to create a statement area in your living room. For instance, lay these tiles around the fireplace or TV area, creating a beautiful and attention-grabbing contrast to the rest of the room.

Rug Illusion: A creative way to use Kota stone is to lay the tiles in such a way that they mimic the look of an area rug. This can be done by using a different color or pattern of Kota stone for this "rug" and surrounding it with another style of flooring.

Combined with Wood: Consider using Kota stone tiles in combination with wood for a warm and inviting look. The stone can provide a durable floor surface, while the wood adds a touch of warmth and natural elegance.
Remember, Kota Stone, being a natural material, might require sealing to prevent stains, and occasional polishing to maintain its shine. The choice of finish – honed, polished, leathered – can also affect the final look and feel of the tiles.
By thoughtfully selecting furniture, lighting, and decor, you can leverage the unique qualities of Kota stone tiles to create a beautiful and welcoming living room.
kota stone tiles design for living room images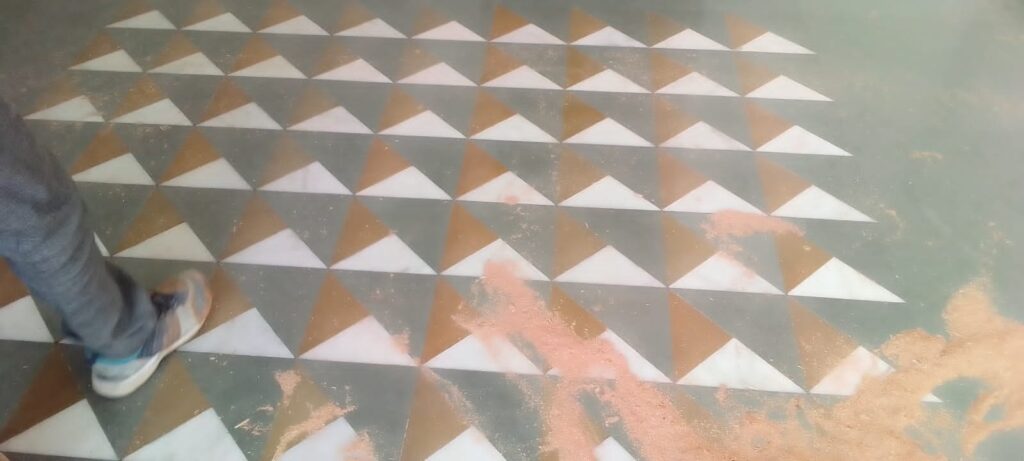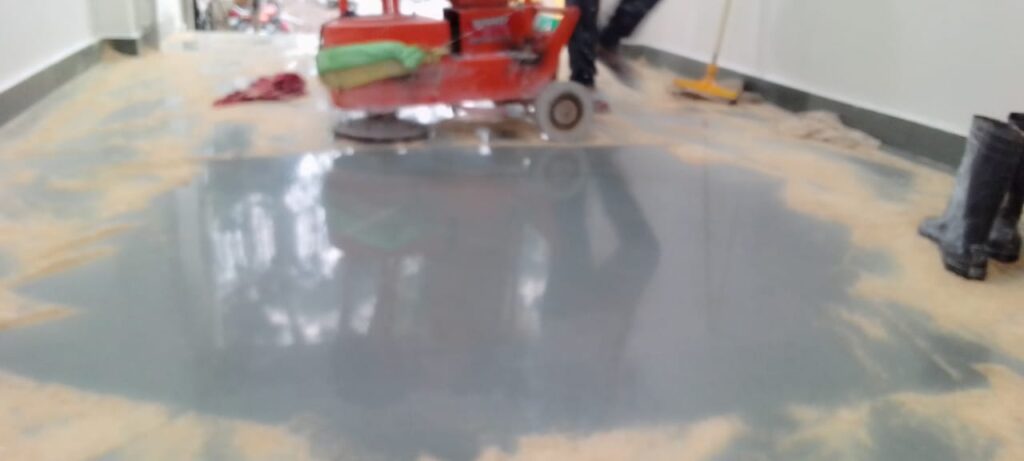 Inlay design in kota stone flooring
kota stone flooring design